Marc Andreessen famously declared in 2011 that "software was eating the world".  While this may have been true for the early 2010s; there's been a shift where data is now eating the world and that data is in the cloud. This had led to cybersecurity attacks against businesses that are more and more prevalent, making efforts to minimize the impact of an attack or breach critical.  Beyond the loss of data, other longtail effects are common for incidents including reputational damage, financial loss, potential legal liability, and continuity issues.  Pinpointing what went wrong and where is of the utmost importance.  Cado Security is a cloud forensics and incident response platform that provides deep and detailed insights without the burden of complex and time-consuming investigations.   By automating data capture across cloud, container, and serverless environments, security teams can build an informed response in minutes as compared to waiting for security audits that may take weeks. The cloud-native end-to-end solution is distributed in both the Azure and AWS Marketplaces and is one of the few platforms that can work across a company's data stack including in containerized environments like Kubernetes while providing automated and comprehensive analysis of root cause, compromised assets, and complete timeline of events. Cado is also customizable to allow users to establish their own rules and reporting mandates.
London TechWatch caught up with Cado Security CEO and Cofounder James Campbell to learn more about the business, the company's strategic plans, latest round of funding, which brings the company's total funding raised to $31.5M, and much, much more…
Who were your investors and how much did you raise?
Cado Security just recently announced the company has raised $20M in funding. The round was led by Eurazeo, one of Europe's leading private equity companies, and joined by Ten Eleven Ventures, the original cybersecurity-focused, global, stage-agnostic investment firm. Cado is also backed by Blossom Capital.
Tell us about your product or service.
Cado Security provides the first and only cloud forensics and incident response platform. The solution enables security teams to thoroughly and rapidly investigate and respond to cloud threats.
The Cado platform automates forensic-level data capture and processing across cloud, container, and serverless environments. To help address the cyber security skills gap, key details — including the incident's root cause and scope — are automatically surfaced so that analysts of all levels can rapidly understand the true impact of cloud threats and respond more quickly and appropriately.
What inspired the start of Cado Security?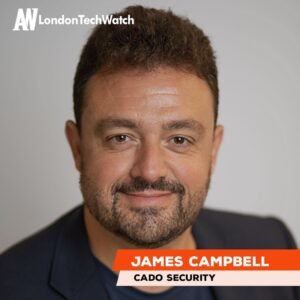 Data is moving to the cloud. Cyber attackers are moving to the cloud. Yet when security teams need to investigate a threat in a modern environment, it's incredibly complex and time-consuming.
When a cyber incident occurs in the cloud today, security teams face several obstacles that lead to significant delays in investigation and response. Access to the data required for an investigation is often managed by another team and can take days to manually acquire. Worse, evidence may reside in ephemeral resources, such as containers, and disappear before security teams can capture it and perform an investigation.
As a result, when an incident occurs in the cloud today, security teams either:
Close an incident without digging deep enough, leaving significant risk on the table; or,
Rely on a combination of outdated/open source solutions to stitch together an investigation – an extremely tedious and manual endeavor.
As incident responders, this didn't rest easy with Chris Doman (cofounder) and me, as we found it frustrating how complicated and slow it was to investigate and respond to cloud security incidents.
We founded Cado Security in April 2020 with a mission to provide security teams with a faster and smarter way to respond to cloud threats. Despite the fact that it was hard to leave our comfortable jobs in the midst of a global pandemic, we had a plan, the energy, and vision to do this. With Cado Security, we wanted to free security analysts from triaging alerts without proper investigation, simply because they didn't have the time or cycles to do the investigation. Cado Security brought our vision to life — with the first cloud forensics and incident response platform for enterprises, enabling security teams to respond to cyber incidents at cloud speed.
How is it different?
Cado is uniquely positioned to solve this complex problem in cloud security because of the following differentiators:
Level of visibility/depth: The Cado platform makes forensic-level data accessible in cases where today it's either impossible or requires significant manual and time-consuming effort to obtain. With Cado, security teams are better equipped to understand and manage risk across cloud, container, and serverless environments — without needing deep cloud/incident response expertise.
First to market: Cado is the first and only solution that addresses the challenge of forensics and incident response in the cloud. Cado's architecture was designed to enable rapid data collection and processing. It would be extremely difficult for other cloud security solutions to deliver the same level of scalability, automation, and speed in this area.
Team & expertise: As incident responders with decades of experience fighting sophisticated state-based hackers and cybercrime groups, we bring extensive knowledge when it comes to investigation and response in the cloud and this deep technical expertise is built into the Cado platform.
What market are you targeting and how big is it?
Cado serves large enterprise customers. At a high level, Cado Security's platform falls within the cloud security market, which MarketsandMarkets estimates will grow from $40.8B in 2022 to $77.5 B in 2026.
Cado serves large enterprise customers. At a high level, Cado Security's platform falls within the cloud security market, which MarketsandMarkets estimates will grow from $40.8B in 2022 to $77.5 B in 2026.
How are you preparing for a potential economic slowdown?
We're being smart and efficient with every step we take. We have every expectation to grow quickly, but there are checks and balances so that we don't overspend and we maintain a healthy runway. The tech sector has certainly seen better times, but Cado is fortunate to be part of a growing market segment within cloud security.
As organizations prepare for a potential economic slowdown, they're looking for ways to save costs. One measure that IT departments make to significantly cut costs is to move more resources to the cloud. As more resources shift to the cloud, security teams need cloud-native solutions to investigate and respond to incidents when they occur.
What was the funding process like?
Different from 2 years ago! There's definitely a shift from focusing on growth to focusing on efficiency. We've always been focused on efficiency, so that wasn't a difficult move for Cado, but I can imagine how it may be challenging for other start-ups that were aggressively targeting exponential growth at any cost. We're thrilled to be working with the Eurazeo team, Blossom Capital, and TenEleven Ventures. They understand that the next big move in the cybersecurity industry is emphasizing response and Cado is the future – delivering a cloud forensics and incident response platform.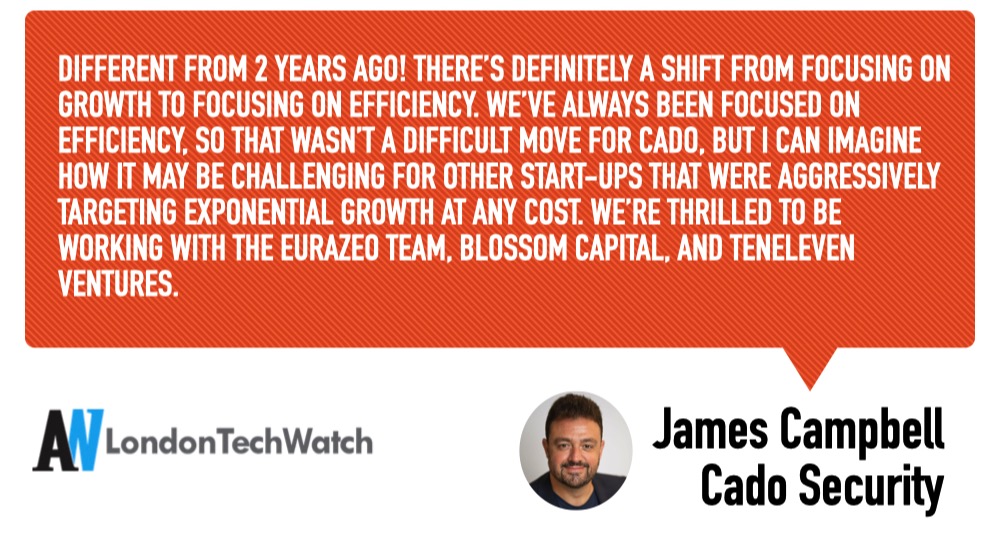 What are the biggest challenges that you faced while raising capital?
The bar has been raised. I wouldn't say it's a challenge, but as the company continues to grow and the economy continues to slow, raising capital becomes more and more challenging. Fundraising has fallen drastically, so we're proud to be one of the few companies that is receiving funding and continuing to grow despite what's happening in the market
What factors about your business led your investors to write the cheque?
They believe in the vision and mission of the company as well as the fact that there is a huge and growing market developing around the problem of responding to incidents in the cloud.
What are the milestones you plan to achieve in the next six months?
Hiring and growing.
What advice can you offer companies in London that do not have a fresh injection of capital in the bank?
Listen to your customers. We wouldn't be where we are today if we didn't listen to every word that our customers and prospects say. It's critical to be a customer-first organization in today's environment if you want to succeed.
Where do you see the company going now over the near term?
To the moon and back.
What is your favourite restaurant in London?
Hawksmoor!
---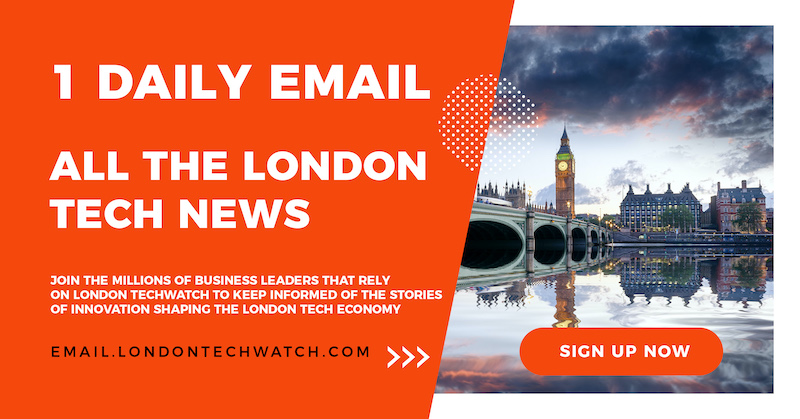 You are seconds away from signing up for the hottest list in London Tech!
---