Most people know that they should be saving money and the rule of thumb says that at least 20% of your income should go towards savings. However, this one size fits all approach is a lot easier said than done. Designed with the mindset to make savings personal, Plum is the AI-powered personal finance app that connects to all of your bank accounts, calculates how much you can reasonably save, and automatically sets aside that ideal amount every few days to help you accomplish your goals. With the savings that Plum sets aside, users can invest it by opening up a Plum ISA and invest in various risk-level themed funds such as "American Dream", "Clean & Green", "European Essentials," and more. For users who rather not invest their savings, Plum offers its paid users interest rates that vary based on the type of subscription. Since Plum is linked to users' bank accounts, Plum's automated features also analyse your bills, identify when you're being overcharged, and calculate potential savings if you switch to different service providers, all with very limited input from the user.
LondonTechWatch caught up with CEO and Cofounder Victor Trokoudes to learn more about Plum's expanding functionality and the future pipeline. Plum currently has a team of 60+ in London and Athens and plans to get the headcount up by another 20 by the end of the year. This funding will be used to support Plum's continued growth and expand to Ireland, Spain, and France. The company has now raised a total of $20.5M since its founding in 2016.
Who were your investors and how much did you raise?
This was a $10M funding round. Our investors are Japan's Global Brain Corporation and the European Bank for Reconstruction and Development, which has participated in previous funding rounds for Plum. Alongside this, the company has received further funding from long-term investors VentureFriend ( the Athens-based VC firm) and has been matched £2.5M as part of the UK government's Future Fund scheme.
Tell us about the product or service Plum offers.
Plum is the smartest app for managing money. It works by using automation to manage your finances in a personalised way, helping over 1M people in the UK to be better off.
Plum connects to your bank account and analyses your income and spending patterns. The app calculates how much you can afford to save, and automatically sets aside the perfect amount of money every few days. This money can be kept in savings pockets, or be invested in a range of themed funds, designed to suit both first-timers and experienced investors. Plum also searches for better deals on bills and utilities and allows you to switch in seconds. With Plum, users can be £186K better off over their lifetime.
What inspired the start of Plum?
We (Victor Trokoudes and Alex Michael, cofounders of Plum) both felt unable to save any money each month. We decided to set ourselves a challenge, to see who could save the most in just a month. I chose to use traditional budgeting methods, while Alex decided to build an algorithm that would save automatically, with no need for a budget. When we compared savings at the end of the month, Alex had double the money I had! We realised that people around the country were, like us, struggling to budget, and technology could be the answer. We decided to build an automation-first money app that could help people grow their money and be better off.
How is Plum different?
At Plum, we've taken a different approach to money management. Most other money management apps work by showing people their financial data, in the hope that this will motivate them to make better decisions. But simply giving people more information doesn't guarantee that they'll act on it.
What's different about Plum is that we use AI to automate people's financial life, so we can produce real outcomes for them. Every new feature we roll out is designed to automate and simplify an aspect of a person's finances, whether that's saving and investing, or allowing users to switch to cheaper bill providers. Simply put, Plum's unique business model actively works to bring more money to users through a smart, holistic approach to financial well-being.
What market is Plum targeting and how big is it?
Anyone who is struggling to save or manage their money will find Plum useful. Currently, there are large numbers of people, both in the UK and Europe, that are being poorly served by traditional financial institutions: In the UK alone, 40% of adults have no savings at all. Plum can help these people grow their money, by letting them save and manage their finances effortlessly.
What's your business model?
Plum currently has two subscription services, Plum Plus and Plum Pro, which cost £1/month and £2.99/month respectively. Plum Plus allows users access to a range of investment funds at a highly competitive price. Meanwhile Plum Pro offers access to investment, alongside a wide range of extra features, such as allowing users to open multiple Pockets with goals and switch on rules such as Rainy Days, (which sets money aside every time it rains) and Paydays (which deposits money into Plum as soon as you get paid). Plum Pro also helps users get a better overview of their financial picture by providing a Diagnostics report of their spending and allowing users to earn cashback at major retailers such as ASOS.
Plum Plus and Plum Pro allow us to keep our business sustainable while ensuring our core saving product remains accessible to everyone. The price is low enough to be competitive and attractive for lower earners. Alongside this, we recommend better products to our users via our switching offering, which allows us to earn some commission from the supplier.
What was the funding process like?
Due to the massive opportunity for fintech during the COVID-19 crisis, we accelerated our own conversations with investors to make our plans into reality.
We're pleased to have been able to raise $10M during the coronavirus pandemic, which will help us continue to grow and further our mission of making everyone financially better off.
What are the biggest challenges that you faced while raising capital?
The biggest challenge is always trying to fit in fundraising with the running of the business. This time, there was the added difficulty of trying to raise capital in lockdown, at a time of huge uncertainty. That being said, Plum is fortunate to be growing rapidly during a time of economic downturn. In fact, we saw consumer savings increase by 5x during the first half of this year, with the biggest increase being during the lockdown.
What factors about your business led your investors to write the check?
Plum is one of the fastest-growing fintechs in London, with the potential to own the savings space in consumer finance. We have a unique and sustainable business model and an ambitious mission that's at the heart of everything we do.
What are the milestones you plan to achieve in the next six months?
Plum is transitioning to becoming the one-stop-shop for managing your money. We have just introduced interest rates of up to 0.75% AER to Plum, which are highly competitive and will offer users a better deal than the average high street bank. Pensions are also part of our plan to provide the ultimate savings solution to our users. Finally, and very importantly, we'll be using this funding to help with our expansion into Europe and we aim to have Plum in France, Spain and Ireland by the end of the year.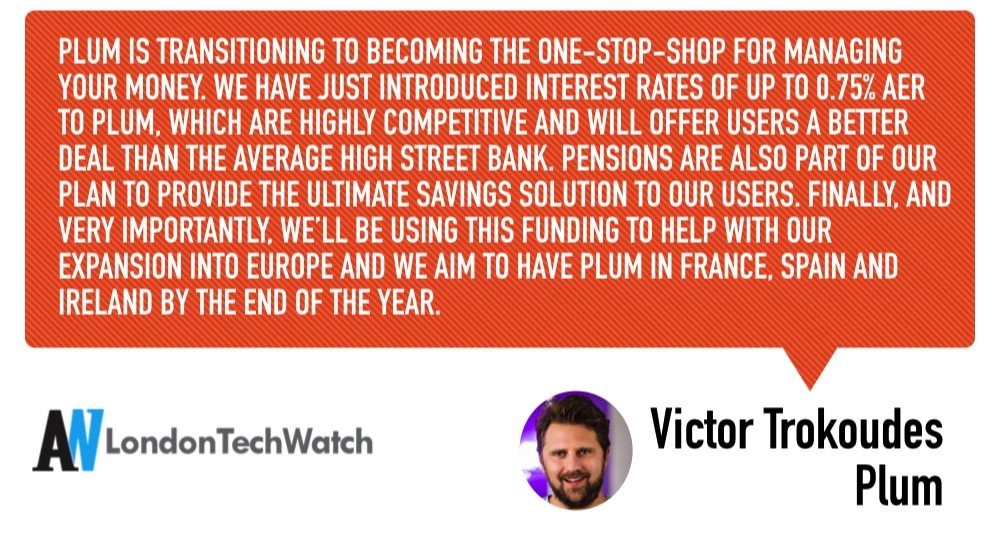 What advice can you offer companies in London that do not have a fresh injection of capital in the bank?
It's a hard time for many businesses right now. If you need capital, you need to really fight to secure it and make sure you have an adaptable business that can grow in the current climate.
What qualities have made you an effective leader, especially during Covid-19?
Good leadership means trusting in the people you work with. Plum is a team, we're all in this together, and so what's really important is taking time to build good relationships with each other and to listen to one another.
COVID-19 has been a challenge in some ways but it has also accelerated the conversation around money management and the role fintech plays. There's a big opportunity for us to provide an app that's relevant and helpful to people in a difficult time. This has been very exciting and motivational for everyone on the team.
There's a big opportunity for us to provide an app that's relevant and helpful to people in a difficult time. This has been very exciting and motivational for everyone on the team.
Where do you see the company going now over the near term?
It's an exciting time for the company, as we're growing rapidly. In the near term that expansion will continue. Plum currently employs over 60 people split across London, U.K., and Athens, Greece. We aim to scale up further to 80 employees by the end of 2020.
Our primary goal is to continue helping people to better manage their money. Our expansion into Europe will be an important part of that process, helping bring automated saving to millions of people who don't currently have access to apps like Plum. By the end of 2021, we're aiming to have 5 million users across Europe. We're also planning to introduce pensions, to help our users better save for their future.
What's your favorite outdoor activity in London?
I love swimming, though the weather in the UK is not always favourable for outdoor swimmers. If not swimming, then I use my bike to get around the city.
---
You are seconds away from signing up for the hottest list in London Tech! Join the millions and keep up with the stories shaping entrepreneurship. Sign up today
---