The logistics and transportation sector account for over 1/3 of all global carbon dioxide emissions, making it the highest carbon-producing segment.  Reducing the 7.7 gigatonnes of CO2 produced annually is critical to building a decarbonized future.  Pledge is a SaaS platform that allows logistic companies and freight forwarders to understand and measure their carbon impact by capturing, calculating, and categorizing an organization's emissions.  The product is self-serve with a free trial that guides companies through calculations with a focus on accessibility, transparency, and simplicity that also ensures compliance with the latest emissions disclosure standards. In addition to the analytics and reporting functionality, Pledge also offers a range of offsetting options for carbon reduction.  Launched in 2021, the company counts logistic companies like Ligentia, Raft, and Zencargo as customers while also working closely with a number of industry associations.
London TechWatch caught up with Pledge Cofounder and CEO David de Picciotto  to learn more about the business, the company's strategic plans, latest round of funding, which brings the company's total funding raised to $14.5M, and much, much more…
Who were your investors and how much did you raise?
This is our Series A funding round. Our investors include Zinal Growth, Base Partners, Ace & Company, Lowercarbon Capital and Visionaries Club. We raised USD $10M in this round.
Tell us about your product or service.
Pledge provides accredited tools for supply chain leaders and freight forwarders to understand, report, reduce, and remove their logistics emissions. Our product is built with accessibility, transparency, and simplicity at its core.
The product includes unique features such as Clarity™ and Accuracy™, which guide users through every step of the emissions calculation process, ensuring calculations are auditable and customers are confident in fulfilling their reporting requirements.
Our self-serve product and free trial mechanism is part of our commitment to providing the best user experience in the industry and helping logistics companies of all sizes save time and resources, win new business, and improve supply chain resilience.
Pledge is accredited by the Smart Freight Centre (SFC) for its adherence to the Global Logistics Emissions Council (GLEC) framework, the only globally recognised methodology for calculating greenhouse gas (GHG) emissions in the logistics supply chain, which has formed the basis of the recently published ISO 14083 standard.
What inspired the start of Pledge?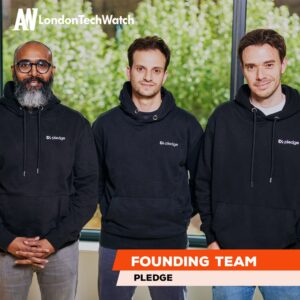 There are multiple reasons why we started Pledge. Firstly, we foresee a future where every company will be obligated to disclose their environmental and overall sustainability impact. Moreover, they will be mandated to implement measures to minimize, reduce and ultimately "remove" their residual and historical climate footprint. This shift is driven by various factors, including growing regulatory pressures across different regions and industries, the increasing collective consciousness regarding climate change, and the personal motivation of company founders, executives, and employees to contribute positively to the environment.
Secondly, we recognise the longstanding criticisms regarding the accessibility and transparency of both the financial services and carbon industries. For instance, the absence of global standards in the carbon market has made it challenging for companies lacking prior knowledge to comprehend the intricacies of this complex system and its actual benefits.
Lastly, the market has faced barriers such as high costs, minimum volume requirements, and manual procedures for accurately measuring and offsetting footprints with high-quality carbon offsets. Consequently, these obstacles have discouraged smaller companies from entering the field and taking action to mitigate their climate impact.
How is it different?
There are many SaaS solutions out there looking to reduce carbon emissions for businesses. Pledge, we've adopted a verticalised SaaS approach to one of the highest emitting sectors on the planet. Unlike many of our peers, we're focusing on one industry and are aiming to decarbonise an industry that has an ecosystem that makes decarbonisation particularly difficult.
Pledge offers a self-serve model self-serve so customers can get started in minutes. We also offer a free trial so customers can use the platform for an extended period of time to see if it suits their needs. There are no step-up fees.
We're GLEC accredited ISO:14083 compliant. Offsetting projects and removal technologies listed on our marketplace are third-party verified, ensuring that customers can have confidence when investing in these climate projects.
What market you are targeting and how big is it?
Initially, we are focusing on the freight forwarding sub-segment of logistics as we see their position as key in enabling the decarbonisation of the logistics supply chain. Globally, there are over 100k forwarders, so it'll definitely be keeping us busy for a while.
What's your business model?
We have a self-serve model with a free trial period. There's also no setup or hardware costs. We aim for Pledge to be accessible to anyone that wants to use it — and this begins with how our customers get started with the product.
We offer monthly and yearly subscriptions, meaning there's no long-term commitment necessary, coupled with usage-based pricing.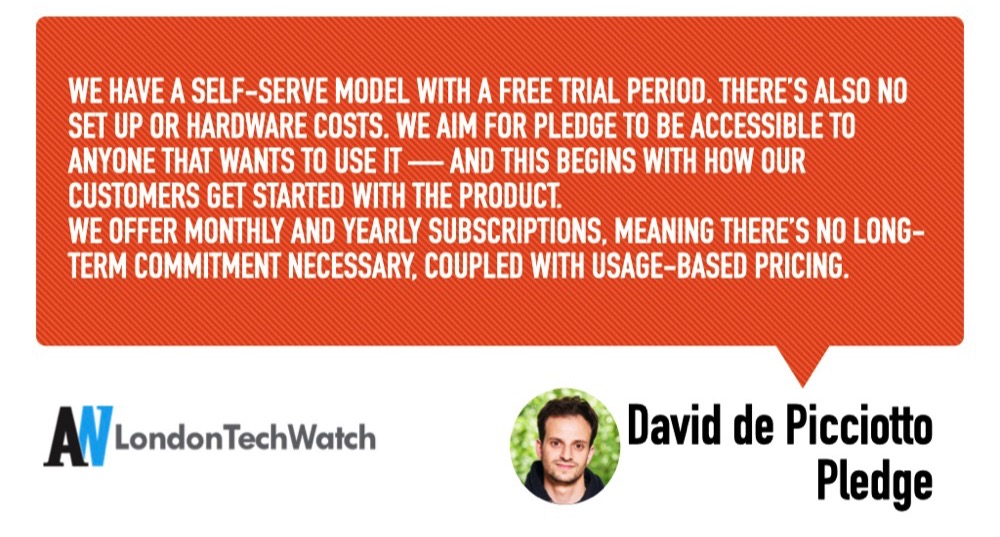 How are you preparing for a potential economic slowdown?
We just raised a Series A, so right now this isn't a massive concern for us. We will take things as they come in this respect.
What was the funding process like?
The funding process this time around had its own unique dynamics compared to our first round of financing back in the summer of '21. While climatetech has demonstrated resilience despite the changing economic environment and slowdown, we're back to more rigorous, lengthier, and deeper investment diligence processes. Investors are paying particular attention to business models and the ability to differentiate.
What are the milestones you plan to achieve in the next six months?
We're continuing on our mission to build tools & infrastructure to build to help businesses transition to net zero, focussing on the logistics supply chain.s. We have some exciting announcements coming up!
Where do you see the company going now over the near term?
For now, we're concentrating on ramping up our product in the logistics supply chain industry. We're constantly improving and refining it, so this is something that will continue in the near future too.
---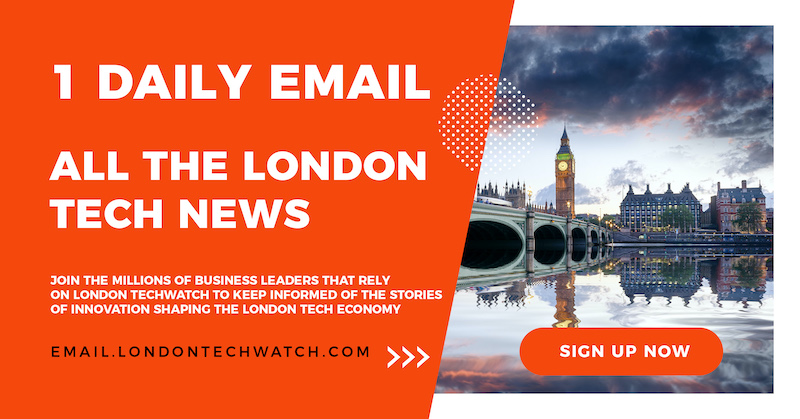 You are seconds away from signing up for the hottest list in London Tech!
---