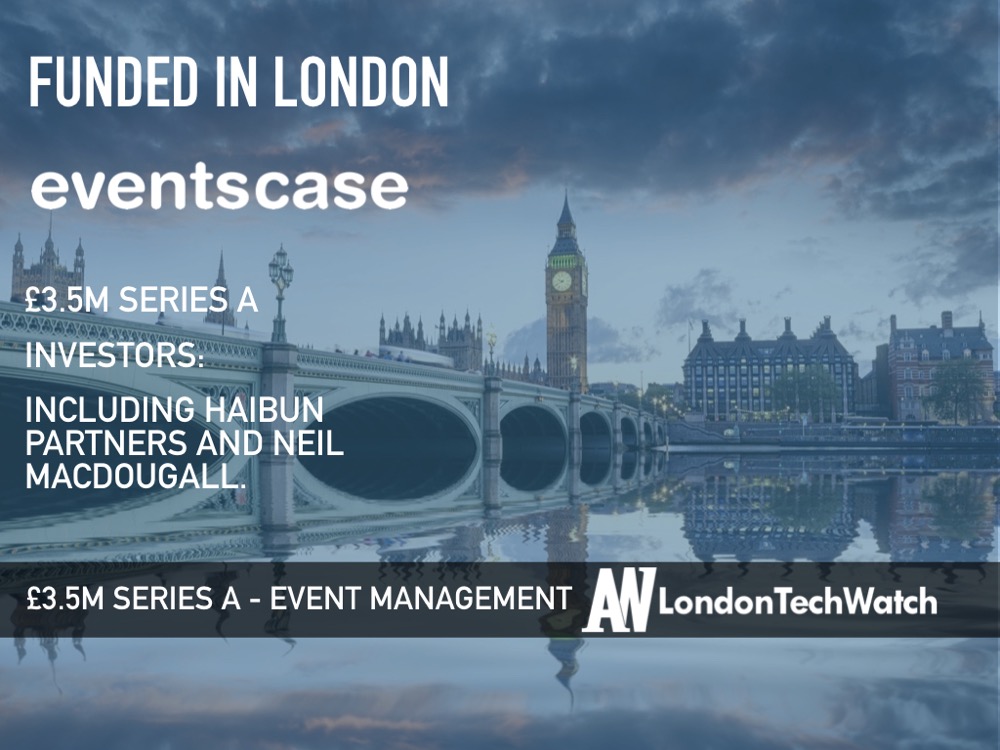 From megaconferences to small, invite-only conferences, EventsCase provides an entire suite of tools to execute impactful events – whether virtual, physical, or a hybrid – from start to finish. Organisers can use EventsCase to manage the event website, email marketing, registration, check-in, engagement-building tools, and more. The events industry is worth over $600B, and to event producers, every detail counts. EventsCase offers white-label no-code solutions that allow organisers to create custom, branded websites, audience-engagement apps, push notifications, manage critical data, and more. As a result of COVID, EventsCase also launched a video conferencing product for high-quality individual and group video calls to facilitate face-to-face interaction.
London TechWatch caught up with CEO and Cofounder Jose Bort to learn more about the evolution of EventsCase, the company's product roadmap, expansion plans, and recent round of funding, which brings the total funding to $8.5M.
Who were your investors and how much did you raise?
The funding round is our £3.5M in Series A. Some of our new investors include Haibun Partners and Neil MacDougall, Chairman of the BVCA, and we were delighted to receive backing from a number of our existing investors too.
Tell us about the product or service that EventsCase offers.
EventsCase offers all the tools necessary for the running of physical, virtual and hybrid events. It's all-in-one, putting your virtual networking, event website, email marketing, registration, check-in, engagement-building tools, apps, and more, under one roof.
Just looking at the virtual play, we have integrated a video conferencing solution for broadcasting live sessions, hosting content on-demand, and enabling face-to-face conversations through individual and group video calls. This – as you can imagine – has been our biggest success story of 2020.
EventsCase provides white-label solutions so organisers can build custom-made platforms that align with their brand. This level of customisation is vital for clients like the United Nations (as well as other large corporations), governments, and political parties, who need complete control when it comes to design and functionality.
What inspired the start of EventsCase?
We actually started back in 2012 as a directory of business events before launching into a community for all the professionals that were attending these gatherings. My cofounder and I are Spanish, but we chose London as our HQ due to the size of the event industry here.
Our early incarnation brought us closer to the needs of organisers, many of whom were still relying on spreadsheets to stay organised and check people in. Once we saw how technology could save them time, grow their audience, and help them generate more revenue, we had to get involved.
Our sources of inspiration are largely the same from those days. Even now, event management technologies aren't always affordable. Even fewer are truly flexible and scalable – able to switch out features on an event-by-event basis. They're also quite prone to hacking.
We're a lot more attuned to the freedom, security, and power that people expect from modern technologies.
How is EventsCase different?
One of our main points of differentiation is scalability. Our pricing structure allows users to select the features they need on an event-by-event basis, and our technology is built to withstand high amounts of usage. This gives us the advantage of being viable for mega conferences with 100,000 attendees, right the way down to niche events attracting just a handful of delegates. It used to be that you'd invest thousands in something that had all the functions but would cost a small fortune, or you'd scrimp and end up with an inferior product. We've changed that.
We also empower organisers to take full control of their event. Through a series of quick, code-free processes, any user can build a custom-made event website and app, import and export data, deliver push notifications and edit on-site content among other tasks, with no technical assistance required.
Additionally, we set the industry standard in a number of crucial areas, like monetisation, data security, language options. The list goes on!
What market is EventsCase targeting and how big is it? 
Our addressable market of event management software pre-COVID was worth $9B (£6.9B), but that's increased to just over $100B (£77.5B) thanks to our pivot to virtual events, where platforms like ours are considered 'the venue'.
EventsCase is largely focused on business in Europe after getting such a great reception in the UK (our HQ) and Spain (our tech HQ). We also created an office in Dubai last year after taking off in the MENA region.
In terms of event formats, we specialise largely on the B2B side of things, making us a prime choice for corporate events, conferences, exhibitions, trade shows, product launches, networking events, and award ceremonies.
What's your business model?
Our business model is one of the best things about EventsCase. It's all built around the idea of being flexible, which means we can offer annual or multi-annual licenses for organisers running dozens, hundreds, or even thousands of events a year. However, we can also make ourselves available on a per-product or per-event basis for those running a single small event or just a few of them.
How has COVID-19 impacted the business?
First negatively, then positively – enough to completely cancel out what initially happened.
We lost 75% of our sales in the 10 weeks leading up to April as governments imposed restrictions on physical gatherings. Thankfully we'd been busy developing a series of tools for hosting virtual events and managed to roll these out in May. Sales returned to the usual volumes in June, but things have exploded since then, putting us on course for 100% growth year on year.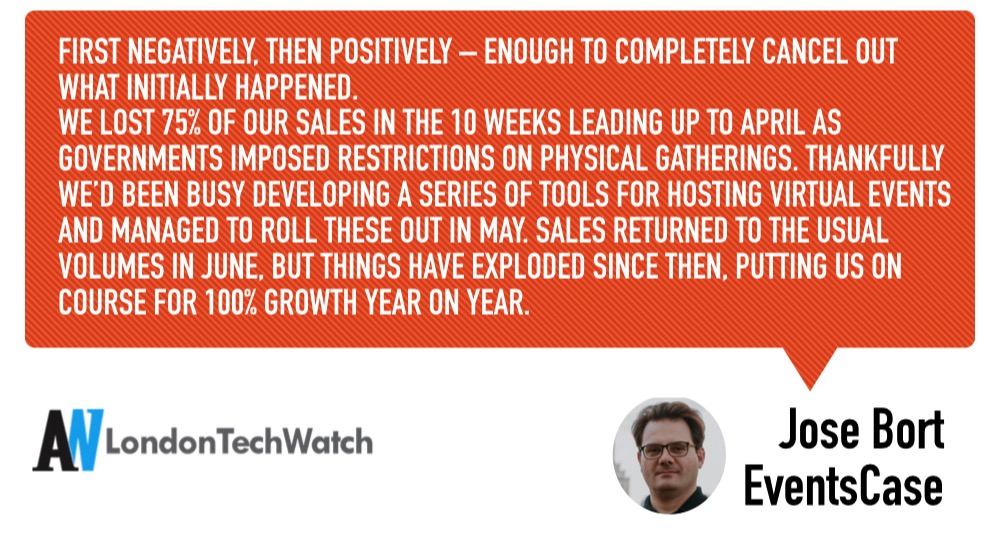 Virtual has completely changed the outlook of our business and has a big role to play in our industry going forward. Surveys indicate that online events will remain popular during the pandemic before the return of in-person gatherings, when organisers will favour hybrid formats – mixing online and offline. It's a historic movement whichever way you look at it.
What was the funding process like?
The original plan was to close the round in January, but then COVID arrived and put a cloud of uncertainty over events businesses. We wanted to develop the virtual product anyway, and when sales began to rise again in June, everything was plain sailing from there.
What are the biggest challenges that you faced while raising capital?
It's still hard to find VCs that specialise in or at least understand the events industry despite it being worth over $600B. Added to the impact of the pandemic, it was virtually impossible to reach the levels we'd projected while everything was up in the air.
What factors about your business led your investors to write the check?
I'd say it comes down to sales growth and management capabilities. We responded to the drop in sales by decreasing our costs to a near break-even level while building the new product and commercialising it. It was good to showcase that we can meet challenges like that, and we definitely came away from the experience in a much stronger position.
What are the milestones you plan to achieve in the next six months? 
Firstly, to launch our own video streaming and production platform, which will bring everything in-house. Secondly, to grow a platform that is so easy to use that it appeals to anyone, regardless of how many events they're running and the scale they're operating at.
Hiring is going to be another big focus for EventsCase as we look to meet the current levels of demand. The investment will be used to bolster our tech and support teams with a view to maintaining our quality of service.
What advice can you offer companies in London that do not have a fresh injection of capital in the bank?
Focus on sales and generate revenue in order to prove yourself. Either that or find a PayPal founder to back you.
Where do you see the company going now over the near term?
Establishing ourselves as the number-one European-based event management platform. We know that our clients want local experts and greater protection when it comes to their data, which our geographical set-up can deliver.
Establishing ourselves as the number-one European-based event management platform. We know that our clients want local experts and greater protection when it comes to their data, which our geographical set-up can deliver.
We then want to become the region's undisputed leader in events, while growing the business in Dubai to ensure we're on the same path in the UAE.
What is your favorite restaurant in London?
It has to be Franco Manca in South Kensington. Without question the best pizza in the UK!
---
You are seconds away from signing up for the hottest list in London Tech! Join the millions and keep up with the stories shaping entrepreneurship. Sign up today
---