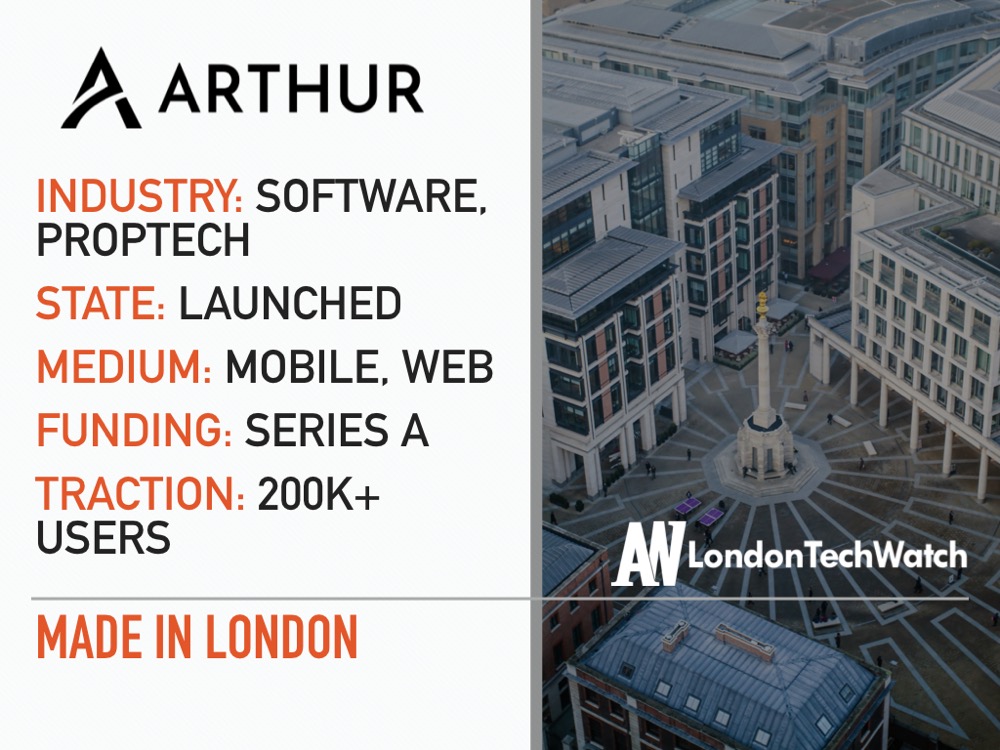 Managing a portfolio of properties is a time-consuming task that requires property stakeholders to constantly check-in on what's happening with each of their properties every step of the way. The cloud has the power to drastically transform property management by centralizing many of these tasks. Arthur is the eight-year-old London startup that makes it possible for property managers to access and control their portfolios anytime, anywhere – with full mobile functionality. In addition to its accessibility, Arthur seamlessly integrates with popular, third-party platforms such as  Xero and Quickbooks to allow users to completely manage the entire property lifecycle on one platform, handling things like maintenance, financials, tenant information, etc. Arthur currently supports over 200,000 registered users and over 145K+ properties.
London TechWatch caught up with CEO and Cofounder Marc Trup to learn more about Arthur, the company's impressive growth, and future plans.
Tell us about the product or service Arthur offers.
Arthur is a revolutionary cloud-based software that has been designed to provide a simpler, more seamless way for property managers, landlords, and agencies to control their property portfolio anytime, anywhere, with a dedicated suite of apps. Trusted by more than 1,000 property managers, Arthur encompasses an impressive range of easy to use effective features including property management, stakeholder management, applicant viewing and management, task management, document management, workflow management, tenancy management, in addition to financials and reporting.
Tell us a little about your background and what inspired the business?
As cofounder and CEO of Arthur, I qualified as a dental surgeon before making the switch to residential property. I previously founded corporate dental services in the city, providing blue-chip companies with onsite dentistry, before selling the business to Barbican healthcare PLC, who subsequently sold to BUPA. In 2000, I established Keep-up-to-date.tv, which provided educational video content for professionals across a very early broadband network.
I then went on to build property investment and development companies, Saxon Investments and Kendale Investments, as well as manage my own property portfolio of c.100 privately owned rental properties. This experience kickstarted my ambition to revolutionise the industry and subsequently, Arthur was born.
How is Arthur different?
We've integrated thousands of associated industry apps on Arthur – including Xero, Quickbooks, Rightmove, and Zoopla – to provide the necessary tools for property managers to stay in control and seamlessly manage all stakeholders at every stage.  Our platform's powerful combination of market-leading online tools surpasses all expectations of property management instilling confidence in our users to grow their portfolio to any size.
Our transformative and flexible property management platform has gone from strength to strength, filling an important void in the market and subsequently achieving 100% growth each year.
What market are you attacking and how big is it?
Arthur is a global company with over 200,000 registered users and more than 145,000 properties listed. Operating across a number of different sectors including; residential, commercial property, social housing, student accommodation, PRS, holiday lets, and HMO the potential for the property management market is vast. Most recently, Fortune Business Insight predicted the global property management market to reach $23.63B by 2026.
What is the business model?
Our mission is to continue advancing our unique software to ensure we provide a world-class property management solution and maintain our leading position in the market. Arthur has been designed to boost efficiency with its cutting-edge, end-to-end solutions and the transformative and flexible nature of the software has enabled us to achieve 100% growth year on year.
How has COVID-19 impacted the business?
In response to the current Covid-19 pandemic, a true priority of ours at Arthur has been to put the safety and health of our customers first. Last week we launched two new innovative tenant functions; the COVID Profile and Vulnerability Profile. Each function has been designed to provide tenants with an accessible platform to inform property managers of any health or wellbeing related issues that should be considered when scheduling viewings or contractor-related work. We will continue to do all we can to help our landlords and tenants during these unprecedented times.
Tell us what building your company in London has been like?
An emotional rollercoaster of highs and lows but with our passionate team dedicated to the smooth running of the software we have been able to achieve year on year success and I would never have done anything else.
What are the milestones that you plan to achieve within six months?
The future for Arthur continues to look bright as we expand the business and client base further, both nationally and internationally. We have a whole host of exciting announcements in the pipeline and we are constantly innovating to ensure the best possible service for our clients.
If you could be put in touch with one person in the London Tech community who would it be and why?
Alex Chesterman, he built a property related piece of technology and now is building another tech-related business. His growth in the proptech sector is an inspirational success story in itself.
What does being "Made in London" mean to you and your company?
After eight successful years, to be recognised and considered for "Made in London" marks a real milestone for Arthur – confirming our status and growth in the commercial realm and innovator within the proptech industry. We are proud of our success and look forward to an exciting future for our team and clients.
After eight successful years, to be recognised and considered for "Made in London" marks a real milestone for Arthur – confirming our status and growth in the commercial realm and innovator within the proptech industry.
What else can be done to promote early-stage entrepreneurship in London?
Build an incredible network – the importance of growing a contact database is essential to succeed in early-stage entrepreneurship.
What's your favorite outdoor activity in London?
Coffee on a sunny day in Kenwood is a real favourite.
---
You are seconds away from signing up for the hottest list in London Tech! Join the millions and keep up with the stories shaping entrepreneurship. Sign up today
---