Long work hours resulting in fatigue, burnout, and lack of sleep are a common result of working in the healthcare industry, which has made many professionals leave the industry. Hospitals are now faced with the difficulty of filling staff vacancies, which costs a significant amount of time, money, and resources. Patchwork Health is the latest solution that gives NHS managers total control over their temporary staffing needs. Patchwork Health's UK-wide digital staff bank broadcasts shift vacancies to an entire network of healthcare professionals and credentialed healthcare workers can self-select their shifts.  Many healthcare insitutions have already benefited from using Patchwork Health including London North West University Healthcare where 40% of shifts filled 6 weeks in advance, resulting in a £500K in annual saving while increasing its staff fill rate up to 81%. Patchwork recently teamed up with Wagestream to give staff the ability to access their wages on-demand as well.
London TechWatch caught up with Dr. Anas Nader to learn more about how Patchwork Health, how the company responded to COVID19, and the company's future plans.
Tell us about the product or service Patchwork Health offers.
At Patchwork Health we're on a mission to solve the healthcare staffing crisis by introducing flexible working across the sector. As it stands, too many talented healthcare workers are leaving the profession citing long hours or burnout. One in every 8 posts in our NHS stands vacant, and that's because the current system simply isn't fit for purpose.
Staff are offered a binary choice between full-time contracts that offer little in the way of work-life balance, or locum (freelance) work through an agency which can be bureaucratic and costs the NHS an estimated £5B per year. We are revolutionising what it means to work for the NHS by offering tech-enabled flexible working that truly works for everyone.
Our award-winning solution gives NHS managers end-to-end control over their temporary staffing, alongside unparalleled insights into their operations. In addition, our UK-wide digital staff bank allows the broadcasting of shift vacancies to an extensive network of trained healthcare professionals, ensuring that wards are always safely staffed and significantly reducing both recruitment agency spend and administrative effort.
Clinicians seeking complete control over their shift timings and locations can register on the Patchwork Health app to self-select the shifts which suit them, as well as gaining the ability to instantly passport their credentials between employers.
How is Patchwork different?
For healthcare organisations, our bespoke service and technology saves money, time and effort, and offers greater control; creating an empowered and happier workforce. For healthcare workers, our app offers access to better work-life balance without impacting NHS finances. Addressing both sides of this issue is essential if we are to retain the clinicians we need and prevent them from burning out, as well as protect the viability of the NHS for the next generation.
We take our role within the NHS incredibly seriously. Healthcare is complicated and it's vital that you add value at each stage. We, therefore, work closely with each of our healthcare partners to ensure our solution is tailored to meet their unique needs and goals.
What market are you attacking and how big is it?
Our goal is to help every NHS Trust, Primary Care Network, and healthcare worker in the UK. That's over 200 Trusts, 1300 PCNs, and over 2 million employees!
What is the business model?
We partner with NHS Hospital trusts and Primary Care Networks to identify their unique challenges and goals and then develop a bespoke staffing solution via an accessible platform.
We give managers access to a vast bank of temporary clinical staff, a personalised recruitment and staff management software, and data-driven oversight of their shift fill patterns. Once the technology is in place, we then provide ongoing support such as bespoke data analysis reports to ensure our tech is working hard, which allows hospitals to provide the utmost safety for their patients.
Healthcare workers can sign up for free to select vacant shifts via a dedicated app.
How has COVID-19 impacted your business?
As soon as the threat of COVID-19 emerged on the horizon at the start of 2020, we were making preparations to adapt our business model in order to better support the NHS. We're extremely proud of the role that Patchwork Health is continuing to play in supporting the NHS through the COVID-19 pandemic, as we move to help the NHS in its COVID-19 recovery phase, building a resilient workforce that can withstand future pressures.
COVID-19 has highlighted the importance of building the right infrastructure to enable staff redeployment, mobility, and flexible working, and we are noticing that more and more Trusts are realising this and reaching out to us for support.
We have worked with 14 major London hospitals to launch the London COVID-19 Digital Staff Bank – an unprecedented cooperative venture which allows the pooling of internal staff bank resources to guarantee safe staffing levels on the frontline.
In addition, we have supported South Liverpool's Primary Care Networks with the staffing of their COVID-19 'hot hub' treatment centre by creating a specialised regional digital staff bank, we have banded together with Medics Academy to up-skill newly qualified and returning staff, and we have supplied essential PPE to NHS workers with ShieldNHS.
Most recently, we also supported the NHS through creating a London-wide 'COVID-19 Intensive Care Patient Transfer System'. When patients are transferred between different intensive care units, they need to be accompanied by specialist workers. Until Patchwork Health, this work had been done by volunteers, all managed sporadically via a spreadsheet and Doodle Poll. Now, volunteers are official paid workers and have been booking vacant shifts seamlessly through the platform.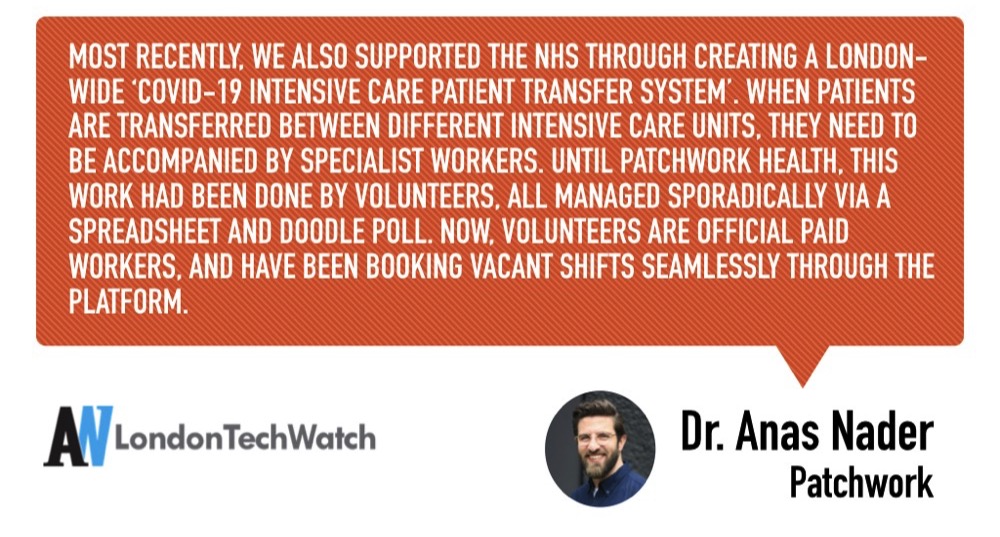 Ultimately, this crisis will change many facets of how we deliver healthcare, with cooperation between hospitals and redeployment of staff in line with need becoming more prevalent.
Tell us a little about your background and what inspired the business?
Our team is made up of healthcare workers and managers who've lived the pressures of temporary staffing first-hand. I myself am a doctor – so I've experienced this from the grassroots. We've all seen colleagues leaving the profession on account of mounting stress. We want to help them and reduce the huge financial strain that staff shortages and inflexible systems were placing on an overburdened NHS.
We realised that we could put our insight and experience to good use in creating cutting-edge technology which could permanently solve a number of these problems, and we haven't looked back since.
Tell us what building your company in London has been like?
We're very proud to be a distributed company with offices in Northern England (Liverpool and Manchester) as well as London.
However, owing to its strong tech startup ecosystem and world-leading network of hospitals, we highly value our London base.
London is also one of the top destinations for diverse talent, and our company has benefited from access to powerful research infrastructure and enthusiastic investors. We were pleased to win a place in the fourth cohort of the Digital.Health London accelerator programme, which gave us the opportunity to expand our reach within the city and beyond.
We are continually inspired by the talent and drive which we encounter every day in the city, as well as the strong shared motivation to make the world a better place.
What are the milestones that you plan to achieve within six months?
It is always our goal to keep welcoming more hospitals and healthcare providers to the Patchwork Health platform and to help our partners to achieve financial savings and improved outcomes for patients and staff.
We recently launched Patchwork Insights – a platform unlocking a wealth of real-time insights and intuitive reporting – and we are working to enable more Trusts to access this platform and get power over their data, meet targets, assess ward cover issues, manage actual and forecasted spend and more.
If you could be put in touch with one person in the London Tech community who would it be and why?
We are big believers in communication and connection, so if there's someone we want to speak to then we always summon the confidence to make the first move.
What does being "Made in London" mean to you and your company?
To us, 'Made in London' represents a commitment to excellence, to constant innovation, and to creative cross-disciplinary collaboration.
It means taking full advantage of the incredible opportunities that this city has to offer, whilst maintaining a national and international perspective.
What else can be done to promote early-stage entrepreneurship in London?
We want to see more startups reaching out to one another in order to share knowledge and pool ideas.
Constant competition and introversion can only take a company so far – it's better for the whole entrepreneurial community if we work together rather than staying inside our separate bubbles.
Constant competition and introversion can only take a company so far – it's better for the whole entrepreneurial community if we work together rather than staying inside our separate bubbles.
We are putting this ethos into practice by linking with complementary companies such as Wagestream – whose technology allows staff on the Patchwork Health database to access their wages on demand.
What is your favorite restaurant in London?
Our office is just a stone's throw away from Old Street, where Officina 00 serves the best fresh pasta in East London.
---
You are seconds away from signing up for the hottest list in LondonTech! Join the millions and keep up with the stories shaping entrepreneurship. Sign up today
---