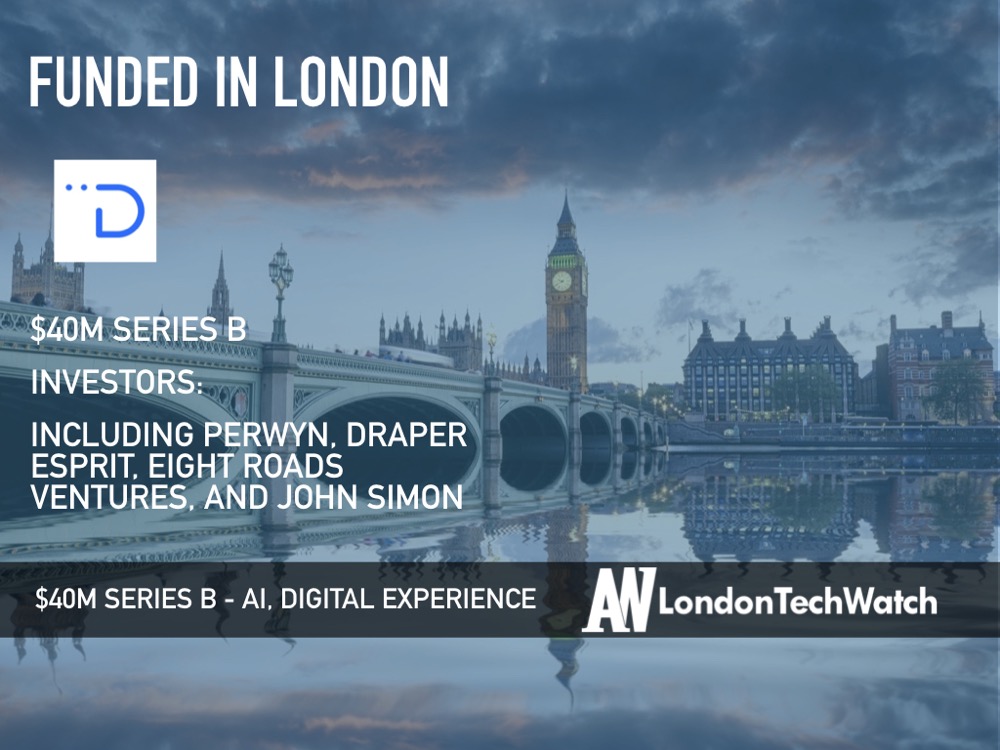 Although businesses are spending more to try and create a seamless digital customer experience, only 30% of CX leaders and only 42% of business partners assert that projects worked on by CX teams are able to achieve their intended results according to Gartner.  Digital experience analytics solutions Decibel is using AI to automatically identify where, why, and how the user experience can be optimized, generating a Digital Experience Score (DXS) in the process. This score helps businesses benchmark their performance and understand a user's behavior across all digital channels – websites, web applications, and native apps. Decibel is presently being used at 250+ of the world's largest brands including Toyota, CVS, AllState, and Lego.
London TechWatch caught up with CEO and Cofounder Ben Harris to learn more about Decibel and its commitment to improving user experience across every digital touchpoint. North America has been a core market for Decibel with 50% of its revenue coming from the Americas in the past three years and the company plans to use this funding round to continue to expand this footprint. Since its founding in 2014, Decibel has scaled the team to over 100 employees and has raised a total of $54M.
Who were your investors and how much did you raise?
Decibel, the leader in digital experience analytics, closed its Series B investment round at $40M. The latest infusion was funded by Perwyn, an entrepreneurial, family-funded investment firm based in the UK. It also includes the initial $17M investment from Draper Esprit, Eight Roads Ventures and John Simon, via his Ventureforgood investment entity.
Tell us about the product or service Decibel offers.
Decibel's digital experience analytics solution – powered by AI – automatically identifies where, why, and how the user experience can be optimized, enabling enterprises to pinpoint problem areas on websites and apps. With these insights, we help enterprises alleviate user frustrations at scale, drive maximum value out of their martech stack, and capitalize on conversion opportunities. Decibel's technology is used by 250 of the world's largest enterprises, including LEGO, Toyota, AllState, and TUI.
What inspired the start of Decibel?
In 2002, I started a digital agency to help clients with customer acquisition and retention. Achieving retention soon relied on customer experience. We then evolved from providing a service to a technology that opened a window into customers' digital experiences.
After establishing the core technology, we applied AI to automate and understand the incredible amount of unique data our clients have. The introduction of AI has been super exciting for the large brands we work with (and us, of course), helping them more efficiently manage masses of customer experience information. We've been grateful to see our client's taking advantage of the revenue opportunities that our technology provides.
How is Decibel different?
Our technology sets itself apart by offering the "why" behind online user behaviors. Traditional digital analytics tools, such as session replays, Net Promotor Scores (NPS) and A/B testing, as well as voice of customer solutions, are critical for brands but do not provide the full picture of why people feel a certain way when engaging digitally and provide that insight to brands at scale. Decibel's digital experience solution and accompanying Digital Experience Score (DXS) fill the gap in the intelligence needed to help brands understand exactly why visitors on websites and apps make decisions. Our technology helps an entire organization create better digital strategies that will result in successful experiences that lead to improved conversion rates.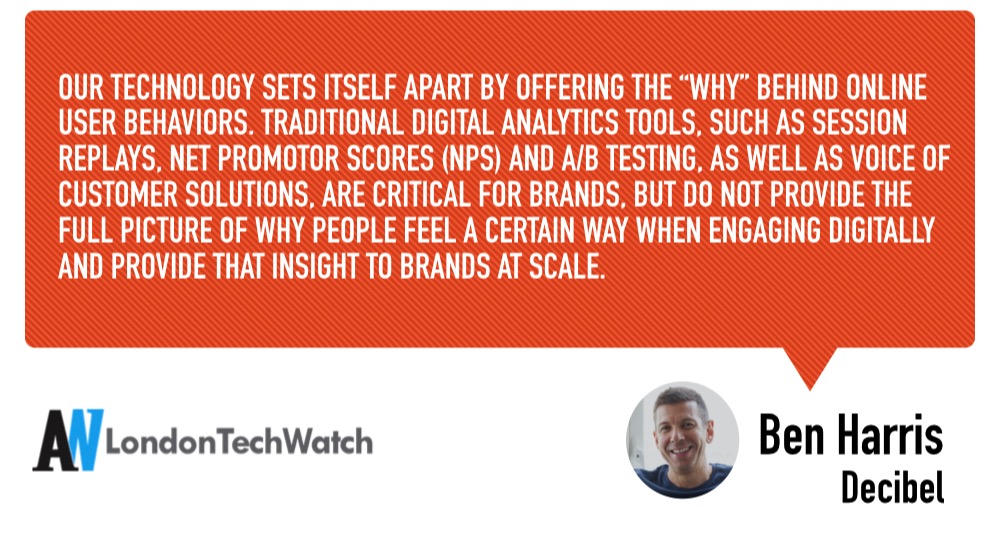 What market is Decibel targeting and how big is it?
Decibel's digital experience analytics solution and DXS can help virtually any brand, in any industry, that has a digital presence. However, the company is especially focused on helping enterprise brands across retail, travel, financial services, automotive, healthcare, media, and tech (among other industries) break through the noise by better understanding their customers, visitors, and prospects.
What's your business model?
Decibel operates on a Software-as-a-Service, recurring revenue model.
How has Decibel adapted to COVID-19?  Will the changes that you made become a part of Decibel, even after things return to normal?
While the importance of optimizing experiences has been a boardroom discussion for a few years now, the effects of COVID-19 have further accelerated its importance. Digital has now become the primary — if not only — platform for a consumer to engage with a brand across virtually every industry. The quality of those digital experiences plays a key role in decision-making for today's consumers. In fact, according to a survey from Decibel, 95% of people will leave a website due to frustrating experiences, such as links not working or ads blocking the page view — an unsurprising finding, but a startling wake-up call to organizations that may risk brand loyalty due to poor experiences.
To optimize digital experiences in the wake of the pandemic outbreak, Decibel has been forging ahead to help organizations look beyond traditional analytics and understand why customers make certain decisions online. Only then can brands improve and exceed experience expectations and increase conversions as a result.
What was the funding process like?
It was certainly better than our Series A funding process. During Series A, I was still deeply operational, so the time spent raising was like an extracurricular activity. This time, we had bigger infrastructure, so I was able to clear my diary to focus on it, and we were prepared with realistic, scrutinized, and clean forecasts.
We were so pleased when we found Perwyn. They were a perfect fit for what we were trying to achieve. They've already added a ton of value alongside Draper Espirit – another fantastic investor from the first close of Series B.
What are the biggest challenges that you faced while raising capital?
The biggest challenges we faced included conveying how, exactly, we had discovered that companies were trying to improve digital customer experience by using the wrong type of data. Investors had to assess whether this new type of data we had created, called enhanced experience data, would solve the problem and what its potential was. Fortunately, many saw its value and we received many more offers than originally expected.
What factors about your business led your investors to write the check?
Our investors grasped the growing importance of optimizing digital-based interactions, across all industries. And, they recognized the challenges enterprises faced in trying to accomplish that feat. With our AI technology, investors could clearly see how sophisticated our solution was in being able to provide enterprises (with masses of digital information) the ability to easily sift through each data point and optimize experiences at scale.
With our AI technology, investors could clearly see how sophisticated our solution was in being able to provide enterprises (with masses of digital information) the ability to easily sift through each data point and optimize experiences at scale.
According to Andrew Wynn, Partner at Perwyn, "Decibel is the market leader in the digital experience space. Its best-in-class technology and strong customer success team make the company an easy win for enterprise organizations wanting more from their digital channels. Decibel is an incredible company, and we're thrilled to partner with them as they propel through the next wave of growth."
What are the milestones you plan to achieve in the next six months?
Our AI is the most advanced in the world for digital customer experience. Never before has there been intelligence that can automatically and accurately identify where the upside opportunities exist on a website and app, and why. We have spent years developing it and launched it before anyone else had conceived the idea. We have tasked the brains at Decibel to continue advancing it over the next six months in order to stay well ahead of the industry.
What advice can you offer companies in London that do not have a fresh injection of capital in the bank?
I cannot add anything that hasn't been written about extensively over the past few months, but ultimately it seems to amount to hard decisions about how to cut costs. If you have a dream that you can make a difference, you need to preserve your funds to ride out the difficult period and sleep at night. That means undoing your hard work, but it buys you more time to find efficiency and growth.
Where do you see the company going now over the near term?
Right now, Decibel is hyper-focused on helping brands combat the influx of online and mobile visitors to maintain positive experiences amid COVID-19. Decibel is "all hands on deck" to ensure incoming and existing Decibel customers are equipped to provide optimal digital experience, achieve their current goals, and maximize their revenue potential during such a sensitive time.
Where is the best place in London to watch the sunset?
Primrose Hill is a park in one of the nicest areas of central London and offers an iconic view of the London skyline. I've spent many a long evening there.
---
You are seconds away from signing up for the hottest list in LondonTech! Join the millions and keep up with the stories shaping entrepreneurship. Sign up today
---