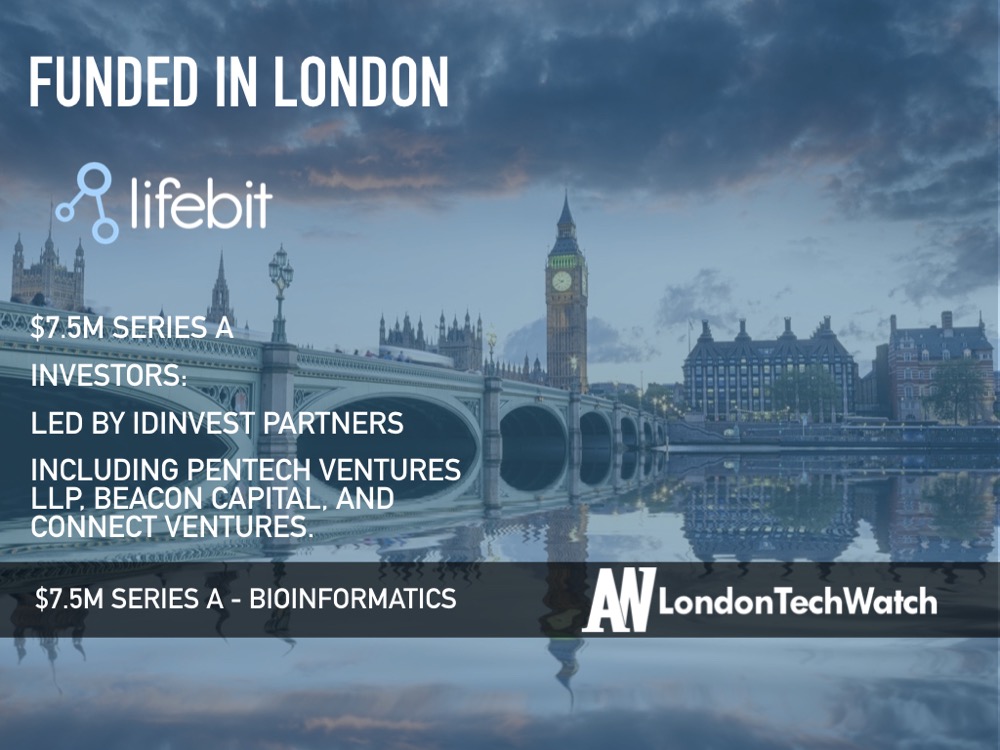 It's an unprecedented time to study genetics because technological advancements and the raw computational power available are helping scientists make sense of DNA in an unprecedented way. Lifebit's proprietary product CloudOS allows researchers to visualize and analyse massive amounts of data through an AI-guided genomic analysis. This solution allows researchers to analyse data faster than ever and extract actionable insights to develop better drugs, therapies, diagnostics, and products. The Drug Discovery market is currently valued at $22B and expected to grow to $68B in the next eight years.
London TechWatch interviewed Dr. Maria Chatzou Dunford to learn more about the problem that Lifebit is solving. Since being founded in 2017, Lifebit has raised $10.6M across four rounds and recently released CloudOS 2.0 to integrate the UK Biobank Data Browser.
Who were your investors and how much did you raise?
This was our Series A funding round. It was led by Idinvest Partners. Our previous investors from our Seed round also participated: Pentech Ventures LLP, Beacon Capital, and Connect Ventures. We raised approximately $7.5M (£6M).
Tell us about the product or service that Lifebit offers.
At Lifebit, we are on a mission to democratise access and understanding of genomics and biomedical data. We are pushing forward the frontiers of health and knowledge by enabling all researchers, whether novice or advanced, to become experts at running complex analyses and extracting actionable insights.
Lifebit CloudOS is our federated platform that enables researchers to visualise and analyse massive amounts of data. It is fast becoming the industry's standard for unified, secure research over distributed big data. On top of its core foundation, Lifebit CloudOS provides users with integration to all open-source analysis and visualisation tools, as well as a marketplace of proprietary ones, powerful data and cohort browser, and advanced AI functionality.
What inspired the start of Lifebit?
My cofounder Pablo Prieto Barja and I suffered for years with the problems Lifebit is solving today when working as biomedical researchers in one of the world's top research institutions for genomic research, the Centre for Genomic Regulation (CRG).
Researchers (including ourselves) were scrambling, trying to build custom software and hardware to handle and convert genetic data to actionable insights, in order to develop better drugs, therapies, diagnostics, and products. We gained quite a lot of experience there, both in the scientific community and with companies and organizations. There was a major gap in the market, a formidable challenge faced by all researchers. We knew how to best solve it and we were motivated to do it.
It's important to understand that making sense of DNA data is a two-step process. One – there is the sequencing of the DNA and then two – there is analysing and extracting insights from the data. In 2017 when we launched Lifebit, the first part of this process was almost fully automated. But the second part was a long way from being automated because it's very complex and time-consuming, requiring highly specialised experts to analyse the data.
We decided to build our platform to enable cloud-based, real-time, and AI-guided genomic analysis at scale, for anyone, anywhere. Now, with Lifebit CloudOS, anyone, even people without computational training, can deploy and run their analysis over any cloud system, which enables them to analyse more data, faster.
How is Lifebit different?
Since our founding, a lot has changed. We have grown so much – our amazing team of course, but also our client base and our user base has grown exponentially. Our platform is now in its second major release, Lifebit CloudOS 2.0. Our public profile has also grown in leaps and bounds.
What market are you targeting and how big is it?
Our platform is deployed by top tier pharmaceutical organisations, research institutes, and genetics companies – so there are different market segments we serve. Generally, our target markets fall under Drug Discovery, which is currently a $22B market and projected to grow to $68B by 2028, and Bioinformatics, which is currently an $11.2B market projected to grow to $34B by 2025. Within these markets, Lifebit serves enterprises & pharma, SMEs, research institutes, and populational genomic projects (public and private).
Who do you consider to be your main competitors?
A majority of our existing and prospective clients didn't really have a solution in place. When that's the case we do not find ourselves competing with another company, as we are uniquely addressing all of our clients' requirements. When we do encounter competition, it is typically one or more partial Do-It-Yourself (DIY) solutions, or a combination of that with a last-generation platform (ie. DNAnexus, SevenBridges, etc). However, these DIY or blended DIY-last generation platforms tend to lack flexibility, as they don't integrate with the way the vast majority of bioinformaticians work, and they fail to provide the user with full control and transparency. They are also very costly to use and enforce lock-downs. On top of that, they are not designed for AI and advanced learning from previous analyses and data operations performed.
There is no other federated cloud-native platform with AI integration like Lifebit CloudOS.
What was the funding process like?
The funding process for this Series A round was a lot of work and a lot of fun. Many people regard fundraising as a daunting experience that doesn't have much to offer apart from money – if you are successful at it. I tend to disagree! If managed properly it can be extremely valuable because you gain access to a lot of brilliant minds offering invaluable feedback and strategic input into your business. Besides that, investors are an excellent soundboard to test and simplify your messaging and branding. This was my case, and in the end, we were humbled by the number of investors that wanted to invest in Lifebit.
What are the biggest challenges that you faced while raising capital?
Well, during our Seed round in 2018 the biggest challenge we faced was explaining to potential investors what our technology would do and why it is so important. Moreover, no one knew who we were then. Now, our Series A round was more focused on our market potential, our customers, and our product. We had already built a very strong public profile, demonstrated thought leadership, and our network is so vast now that the focus of this round was very much on the commercial side and the product uniqueness side.
What factors about your business led your investors to write the check?
Put simply: That we went from zero to hero in a very short period! That is also what we take the most pride in. Lifebit is leading our space and our investors were impressed by the rapid product commercialisation and market adoption particularly among major pharmaceutical and research organisations. As well, they appreciated the uniqueness and defensibility of our patented technology and how effective our team and business plan are.
Put simply: That we went from zero to hero in a very short period! That is also what we take the most pride in. Lifebit is leading our space and our investors were impressed by the rapid product commercialisation and market adoption particularly among major pharmaceutical and research organisations.
What are the milestones you plan to achieve in the next six months?
We have a number of key milestones we are working towards over the next couple of quarters. Right now, we have embarked on a major hiring campaign to grow our team of rockstar bioinformaticians and engineers, as well as other key roles. We are expanding our market reach, we are supporting our fast-growing customer base with world-class service, and we are continuing to innovate our platform. You can expect some exciting announcements in short order!
What advice can you offer companies in London that do not have a fresh injection of capital in the bank?
Stay lean
Create one or two success stories/use cases – ideally the one champion client to bring everything together and
Create a compelling vision and execution plan around that.
Where do you see the company going now over the near term?
Over the near term, I see Lifebit CloudOS deployed across more and more enterprises and being utilised for more and more critical projects – powering groundbreaking research. I see our presence growing broadly in terms of geography and in terms of the industry. I see us steadily growing in terms of customers, revenue, and product innovations. In short, I see Lifebit growing!
What is your favorite restaurant in London?
So many, but if I am to pick one, I would go for: On The Bab! You should try it if you haven't!
---
You are seconds away from signing up for the hottest list in LondonTech! Join the millions and keep up with the stories shaping entrepreneurship. Sign up today
---