If retail wants to compete with the ease and convenience of online shopping, retail teams have to create the best customer experience, and this is possible by utilizing software solutions. Qudini is the solution for enterprise retail that manages store operations and collects data to perfect customer experience. Through its app, retail teams can coordinate meaningful interactions with customers that include customer self-check-in and requesting assistance from anywhere within the store. Qudini's solution can increase unplanned spending by 24% and reduce customer walkout rates by 62%. Qudini is used by Fortune 500 companies such as Verizon and Samsung and even universities like London Metropolitan University.
London TechWatch sat down with CEO and Cofounder Imogen Wethered to learn more about how Qudini is applying the best of e-commerce to physical retail stores, the company's future plans, and the state of retail.
Tell us about the product or service that Qudini offers.
Qudini is a global B2B SaaS company that provides innovative Retail Choreography solutions to enterprise-level retailers. We're market pioneers within the retail industry, having invented the "Retail Choreography" framework and first software solution suite.
We help retailers to win the retail revolution and to drive greater profitability and lasting brand relevance by creating captivating omnichannel offerings with superior customer experiences, advanced store operations, and game-changing data, and AI Insights.
Today our platform includes solutions for Appointment Scheduling, Queue Management, Event Management, Task Management, and Shop Floor Management.
How is Qudini different?
Unlike many of our competitors, we stand out in the market for our suite innovative solutions and our extensive experience working alongside enterprise-level retailers.
All our solutions are cloud-based and centralised, meaning retail teams can use any one of our solutions from any device through the Qudini app.
We're incredibly flexible in our approach. Our hands-on and detail-oriented team of experts work alongside our retail clients to ensure our solutions give them the outcomes they desire.
We also stand out for providing retailers with game-changing, e-commerce style data insights to help them improve sales, loyalty, and performance.
Tell us a little about your background and what inspired the business?
Forming in 2012 after my cofounder and I attended a corporate-sponsored hackathon and bonded over a shared passion for the magic of retail, Qudini is still driven by its original mission: to help brands to own their futures by captivating omnichannel offerings that transform their stores into magical destinations for brand, community, and social interactions.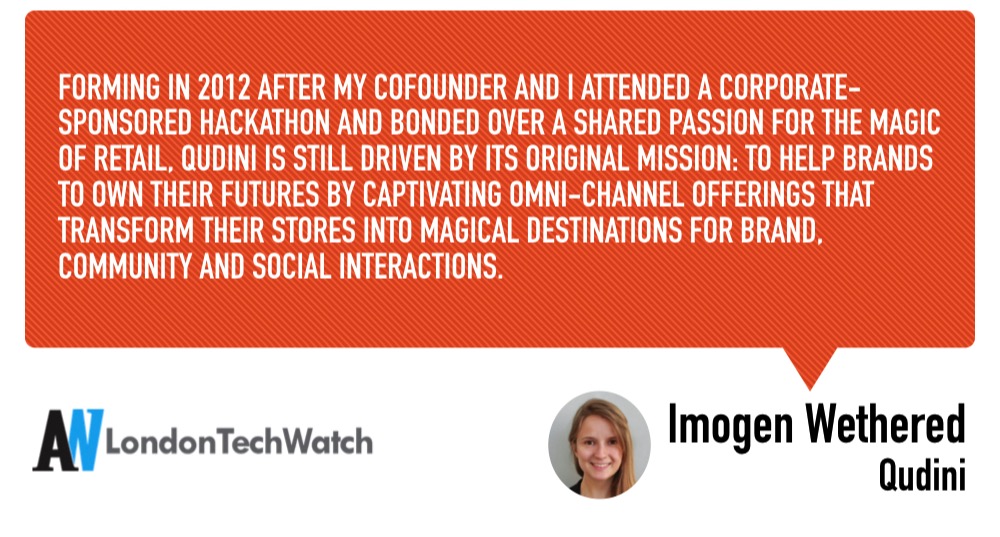 What market is Qudini attacking and how big is it?
We are primarily focused on targeting enterprise-level retailers in the UK and have recently moved into the US market. We work with electronics retailers, beauty brands, retail banks, department stores, supermarket chains, travel agencies, fashion brands and more.
What is the business model?
We're a B2B SaaS supplier, meaning we offer our software on a subscription basis to use within a retailer's organisation.
Who do you consider to be your primary competitors?
Booking Bug, Tulip, Jrni, Red Ant, Qmatic
Tell us what building your company in London has been like?
It's been very exciting – busy, but inspiring, nonetheless. I'd be lying if I didn't say it can be stressful at times, but I've always been grateful for all the help I've received as a young female founder.
What are the milestones that you plan to achieve within six months?
We plan to share our new Retail Choreography concept with the world to help retailers understand how our software can help them to drive profitability and brand relevance with better experience, operations, and data.
We also plan to take the US market by storm – and continue to shake things up here in the UK with our new Task Management product.
If you could be put in touch with one person in the London Tech community who would it be and why?
Yuval Noah Harari, the Author of Sapiens/Homo Deus, to understand what he thinks of technology trends and the retail sector.
What does being "Made in London" mean to you and your company?
London is a bustling tech hub and it's a very exciting time to be a London-based startup. There's lots of energy, innovation, and ideas!
What else can be done to promote early-stage entrepreneurship in London?
While I personally have received lots of support as a young female founder in the tech space, there is still lots that could be done to help female entrepreneurs – particularly when it comes to gaining investment.
According to recent data by PitchBook and All Raise, female-founded companies only took 2.2% of all Venture Capital (VC) funding throughout the whole of 2018 (and even this tiny percentage is in decline!).
According to recent data by PitchBook and All Raise, female-founded companies only took 2.2% of all Venture Capital (VC) funding throughout the whole of 2018 (and even this tiny percentage is in decline!).
One of the most damaging factors to female entrepreneurs is the predominately negative questions they're asked by potential investors (male entrepreneurs often get asked different, more positive questions), which often results in more negative answers. More could definitely be done in this regard.
What is your favorite restaurant in London?
Honest Burgers – they're also our first customer.